The Toronto Swing Dance Society hosts friendly social dances that are welcoming to everyone. No experience or partner required. All welcome!
Current Schedule:
Prices: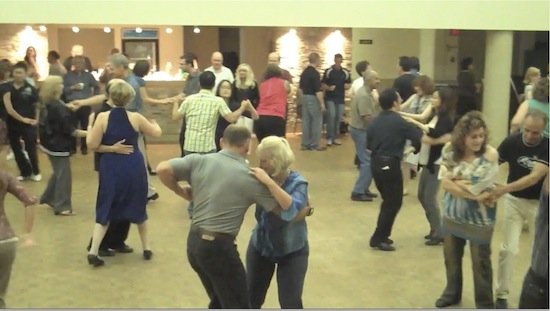 $10 for members
$15 for non-members
All prices are tax included
Times:
7:40 pm Doors open
7:50 pm Dance warm up
8:00 pm Intermediate Lesson (1/2 hour)
8:30 pm Beginner Lesson (1/2 hour)
9:00 pm D.J. dance. D.J. plays music appropriate to the lesson for the first 10-15 minutes.
Then D.J. plays all styles of swing, all speeds, etc. Runs until midnight.
Location:
The Lithuanian House, Hall B, 1573 Bloor Street West
---
Our dances are open to everyone.
Beginners are always welcome at our events.
Lesson before the dance, geared to your needs.
You don't need to bring a partner. Most people who come to our dances don't come with a 'designated partner'.
You don't need to dress up. You don't need to dress down. We don't have a dress code.
Nothing prevents you from dressing '20s or '40s or '70s, if you wish. But nothing requires it either.
If you don't know how to dance, we'll teach you. Come early and take the lesson!
You don't have to be 18. You don't have to be 80.
Please contact us if you have any questions, and don't forget to check our FAQs!