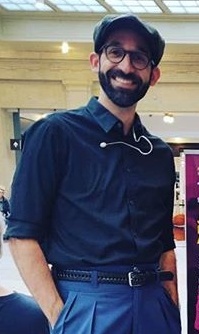 Luis Arredondo is known for his energetic dance style, risk-taking, continuous smile, and detailed approach to the learning process. Originally from Spain, he came to Toronto in 2011, and continues to confound and amuse people with his accent to this day.
His love of dancing extends to the teaching process, and in 2016 he decided to quit his job as an architect to work full time as a dance instructor. The Lindy Hop (and Balboa) revolution has been full steam ahead ever since! He has focused on expanding his studio in Toronto, Lindy Hop Revolution, and refining his teaching style and technique.
Luis likes to keep his classes moving with lots of positive energy, interesting shapes, and a healthy sprinkling of technique. He likes to make sure each class is getting what it needs to succeed, and no two classes are exactly the same!
He has traveled and competed around North America and Europe and has won and placed in many national and international competitions. As an instructor, he teaches Lindy Hop and Balboa across Canada and has recently started teaching in the US as well.
He looks forward to seeing you all in class, to fill your mind with dancing tips and interesting new pronunciations of common words!